My little man is about to be three this April. He eats, breathes and sleeps Disney's Cars. We keep collecting more and more cars despite the fact that he has multiples of each one. But he loves them all the same, especially Mater. So I think we will be throwing a Cars birthday party for him this year. I was a little hesitant to decide on Disney's Cars theme because I don't want to throw a cheesy looking part. But, then I ran across this post on a blog called Buckets of Grace and I am so excited now! The original post has many more pictures, so go check it out! My favorite part...the party was in the garage!
Thank you for letting me share your post Melissa!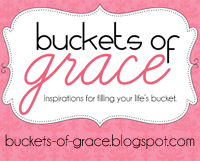 At least that's what Ethan said to Grace as she walked into the garage after school to see "his party" preparations. He was so excited to show off his party to her! His excitement was worth more than anything to me. The weather turned out to be much nicer than predicted, but in the end having the party in the garage worked out great. I don't think I ever could have been ready had I needed to set up on the party day on our patio. And, as my friend Rebecca said as we were both planning our children's parties for the same day and commiserating about the weather, at least my theme fit a garage setting. (Not so much for her Alice in Wonderland theme.)
Not to sound too much like an acceptance speech at the Academy Awards, but I really do want to thank everyone who helped me plan this party, my husband for putting up with me and only occasionally getting mad at me when he attempted to calculate in his head the money I was spending, all the inspiration I've gathered from the various different parties on everyone's talented blogs, Betsy Pruitt from
Belly Feathers
who has been so kind and helpful as I've adventured into party planning blog land and the same to Michelle Burt of
Maddycakes Muse
. Also, a big thanks to
Jessie Warner
who graciously agreed to come take pictures of my lil' ol' party and making me look so good!
Thank you for looking and reading my blog. I'm so grateful and honored! This post is a picture overload! I'll try to include all the sources of the various items, but if I don't feel free to email me.